聽BBC學英文 Learning English - Words in the News
04 April, 2011 - Published 15:47 GMT
More wreckage from Air France plane found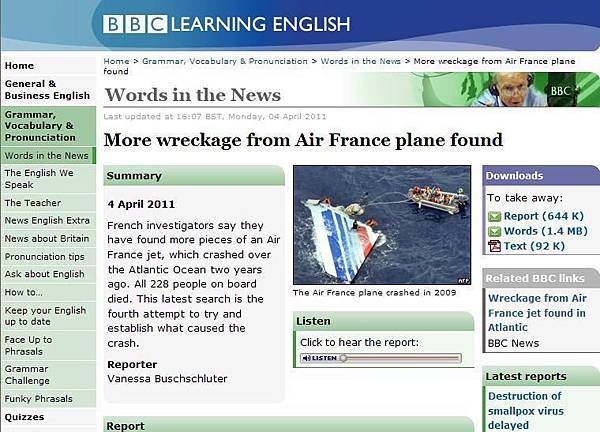 French investigators say they have found more pieces of an Air France jet, which crashed over the Atlantic Ocean two years ago. All 228 people on board died. This latest search is the fourth attempt to try and establish what caused the crash. Vanessa Buschschluter reports.
News of the find has awakened new hopes among the team of crash investigators, that they may finally find the flight data recorders, which they say are crucial to determine the cause of the crash.
There's been speculation that malfunctioning speed sensors were to blame, but officials say other factors must have also contributed.
The search for the data recorders has been complicated and costly, with unmanned submarines diving to depths of up to 4,000 metres to scour the sea floor for traces of the plane.
Air France and the aircraft manufacturer Airbus, who've both been placed under investigation on charges of involuntary manslaughter over the crash, will be among those keen to see the flight recorders retrieved.
Vanessa Buschschluter, BBC News
Vocabulary
the find
the discovery
awakened
prompted
flight data recorders
machines in planes which store information on what happened during each flight (e.g. plane's direction, weather conditions)
to determine the cause
to find out what made (the crash) happen
malfunctioning
faulty
contributed
added to the situation
costly
very expensive
to scour
to search thoroughly (along)
placed under investigation
questioned as part of the inquiry
involuntary manslaughter
causing people to die, but not deliberately
*原始網頁可聽音檔:http://www.bbc.co.uk/worldservice/learningenglish/language/wordsinthenews/2011/04/110404_witn_airfrance_page.shtml
菁英國際│菁英教育|上海托福|上海雅思|全民英檢|TOEIC|TOEFL|
IELTS|SAT|美加留學|澳洲遊學|日本遊學|英美留學|英檢證照時代|