聽BBC學英文 Learning English - Words in the News
06 April, 2011 - Published 16:46 GMT
Japanese disasters hit UK car production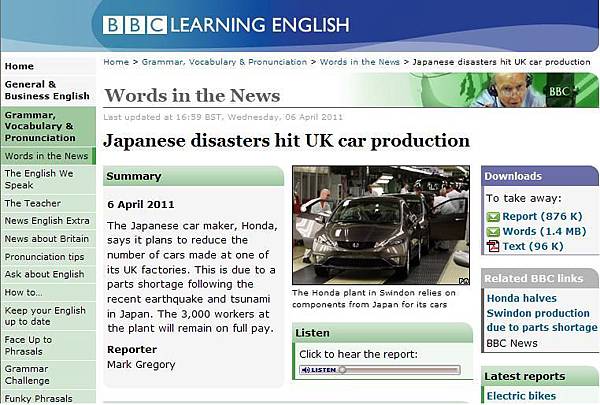 The Japanese car maker, Honda, says it plans to reduce the number of cars made at one of its UK factories. This is due to a parts shortage following the recent earthquake and tsunami in Japan. The 3,000 workers at the plant will remain on full pay. Mark Gregory reports.
Honda says it's cutting production at its Swindon plant, in southern England, by 50% from next week, as it grapples with shortages of key components from Japan.
Wide swathes of Japanese industry are working at well below full capacity due to power shortages, following the nuclear accident at Fukushima. The earthquake and tsunami devastated a region that's home to some key parts suppliers to the motor and electronics industries. The effect is being felt in the supply chains of many companies around the world, not just Japanese ones that rely on Japanese made components.
The problem's been exacerbated by the prevalence of so-called 'just-in-time' production systems, where manufacturers don't keep large stockpiles of parts on-site. Instead, they rely on timely deliveries made just before the parts are needed, more efficient when things are going well, but prone to disruption if the parts don't arrive on time.
Mark Gregory, BBC News
Vocabulary
production
here, the number of cars made
grapples with
struggles to deal with
key components
crucial or important parts
wide swathes
here, large parts
devastated
wrecked or ravaged
the supply chains
the systems used to get parts or materials for production
rely on
depend on
exacerbated
made worse
prevalence of
common use or regular occurrence of
prone to
likely to suffer from
*原始網頁可聽音檔:http://www.bbc.co.uk/worldservice/learningenglish/language/wordsinthenews/2011/04/110406_witn_hondaswindon_page.shtml
菁英國際│菁英教育|上海托福|上海雅思|全民英檢|TOEIC|TOEFL|
IELTS|SAT|美加留學|澳洲遊學|日本遊學|英美留學|英檢證照時代|